Nov 11th, 2012
Author:
CrossFit CDR
HAPPY VETERANS DAY
This nation will remain the land of the free only so long as it is the home of the brave. -Elmer Davis
In memory of those who made the ultimate sacrifice and those who risk their lives today so that we may continue to live in freedom…
Thank you and Happy Veterans Day 2012
View flyover by CDR members, Tim and Tony.
PALEO RECIPES
Here are some simple recipes to add a little variety to your paleo menu.
Kale and Pink Grapefruit Salad
Swordfish Skewers with Sweet Pepper Salad
Moroccan Chicken Stew with Artichoke Hearts and Carrots
Slow Cooker Pot Roast – instead of cornstarch, use half as much arrowroot powder. You can find arrowroot powder in the spice section of the grocery store.
WORKOUT OF THE DAY
Hero WOD – Team Murph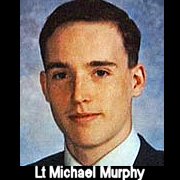 In memory of Navy Lieutenant Michael Murphy, 29, of Patchogue, NY, who was killed in Afghanistan June 28th, 2005.
This workout was one of Mike's favorites and he'd named it 'Body Armor.' From here on it will be referred to as 'Murph' in honor of the focused warrior and great American who wanted nothing more in life than to serve this great country and the beautiful people who make it what it is.
1 mile Run
100 Pull-ups
200 Push-ups
300 Squats
1 mile Run
Sign up for class here.